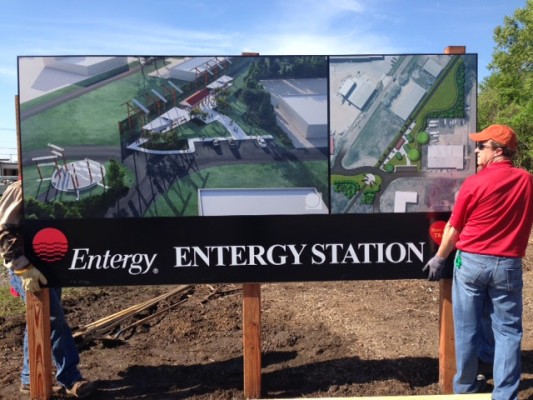 Entergy Station underway in Belhaven Heights
Published on: Tuesday, June 17th, 2014
In the Greater Belhaven Neighborhood News, May 1, 2014:
Entergy Mississippi is developing a small park called Entergy Station adjacent to the proposed Museum to Market Trail in Belhaven Heights. The community development project began early today at the intersection of Moody and Greymont streets with about 100 Entergy volunteers doing the work.  Other partners in the project include the Greater Belhaven Foundation and the City of Jackson. In addition to the amazing contributions by Entergy Mississippi and its employees, the project is being made possible by Jennifer Welch of Belhaven Residential, who generously donated the park land to the Greater Belhaven Foundation.

Entergy will make a formal announcement about the project at a later date, but for now we thought you would like to know about the activity at the "cut through" in Belhaven Heights. Go check it out!